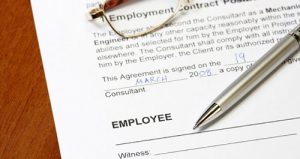 In this article, an Irvine employment lawyer explains the importance of keeping a written record of your job search.
Recording Your Job Search
In order to demonstrate to your Irvine employment attorney and the opposition that you have been doing your due diligence regarding looking for work, a comprehensive job search record is important.
These records are for your Irvine employment attorney to review. The words "PRIVILEGED ATTORNEY-CLIENT COMMUNICATION" should appear at the top of the document. If the document is more than one sheet in length, be sure those words appear at the top of every single sheet. Your lawyer will then be able to determine, after reading the document privately, whether it will be appropriate to use that document as proof of your efforts to find a job. This shows that you have done what you can to mitigate damages.
Use the following is an example of how to keep such a record.
Feb. 20: Conducted online search of various employment sites. No results matched search criteria. Printout is attached.
Feb. 20: Telephoned XYZ Mfg. Per telephone conversation with Margaret, HR assistant, company has no openings and is accepting neither applications nor resumes.
Feb. 22: Spoke to my neighbor personally. His place of business is not hiring.
Feb. 22: Mailed resume and cover letter to ABC Electronics in response to classified ad from the local newspaper. No reply has been received to date.
Retain any and all information relevant to your search for work. The following is a list of the kinds of correspondence and other documentation that you might wish to place in such a compilation.
Job wanted advertisements in the newspapers that you have studied whether or not any suitable positions were listed;
Copies of any and all versions of your resumes and cover letters;
Copies of any completed job applications;
An electronic correspondence concerning your job search;
Hard copies of any Internet searches on job-related websites; and
Correspondence including written job offers, letters of rejection and letters inviting you to an interview.
Seek Qualified Professional Representation
Your Irvine employment lawyer has the education and expertise to help you. Contact Daily Aljian LLP by calling 949-861-2524 today.