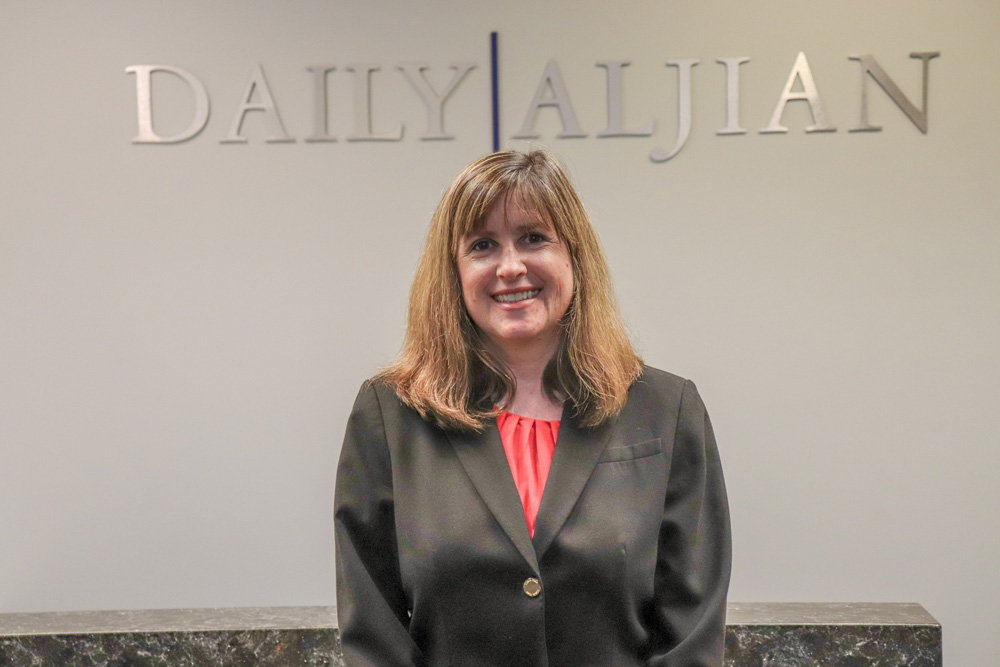 Debra Garfinkle
Debra Garfinkle is an Associate at the Firm. She works on all types of civil litigation, including matters involving contract disputes, employment law, real estate, and personal injury claims. She has particular expertise in employment, commercial, and appellate law.
Ms. Garfinkle grew up in Los Angeles. She obtained her undergraduate degree, cum laude, in economics from Brandeis University in Massachusetts, where she was a Teaching Assistant for microeconomics classes. Ms. Garfinkle earned her law degree from UC Berkeley's Boalt Hall School of Law, where she served as Book Review Editor of the Journal of Labor and Employment Law and as a Teaching Assistant for Boalt Hall's legal research and writing class. She has lived in Orange County since 2003.
Prior to joining Daily Aljian, Ms. Garfinkle spent close to nine years as a Research Attorney for the Honorable James W. Meyers, who was then the Chief Judge of the Ninth Circuit Bankruptcy Appellate Panel and Chief Judge of the United States Bankruptcy Court, Southern District of California. Ms. Garfinkle reviewed trial and appellate briefs, researched and drafted memoranda, and assisted the judge in crafting trial and appellate decisions. She also spent two years as an employment attorney and writing specialist at a large Los Angeles law firm. Ms. Garfinkle is admitted to practice before all California courts.
Ms. Garfinkle has authored many legal articles, including "Anonymity Is as Fragile as a Glass Door," Daily Journal (Dec. 2017), which discusses Internet privacy issues, and "New California Law Expands Baby Bonding Leave to Mid-Size Employers," CSDA e-News (Nov. 2017), detailing changes to employment laws.
Ms. Garfinkle enjoys spending time with her family, volunteering with the High School Public Debate Program, reading, and writing. She has published many young adult novels, children's books, and newspaper and magazine articles.
What Our Clients Are Saying

I had discussed my case with numerous attorneys, all of which told me there was no point in pursuing it. Ultimately, a lawyer referred me to the attorneys at Daily Aljian who felt differently about the merits of my case and agreed to pursue the claims. In the end, they were able to obtain a great result for me and my family. Since that time, I have referred them to various clients of my company and I have received positive feedback from all of them. Reed and Justin are hard working, efficient, and a pleasure to work with. Most importantly, the firm gets great results.